TEACHER INTENSIVES + MASTER CLASSES
JUNE 2-5, 2022 at EL GONG YOGA
Image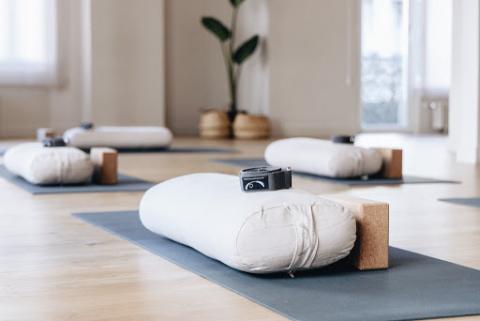 Every moment of our lives is filled with potential for deeper, simpler, more sublime experience. In opening our senses to being fully aware of our reality, we discover insights for consciously refining our actions and ways of being, making our practices and lives more beautiful and joyful in every breath. Rather than only turning our awareness inward, we open to being fully awake in the whole of it all, conscious in the beauty of existence, even amid complex lives in a seemingly crazy and unpredictable world.

With a focus on conscious exploration and the exploration of consciousness in action, these sessions blend insights from yoga, tantra, science (mostly kinesiology and neuroscience) and philosophy. The Thursday and Friday sessions concentrate on guiding the practice, emphasizing both self-guidance and optimal ways of guiding others. On Saturday and Sunday, we will dive into the practices themselves, exploring adaptive and creative ways to make yoga more accessible, sustainable, and beautiful for all.

This series of classes and workshops can be taken a whole or in its pieces, and they are open to all human beings.
Thursday, June 9: Guiding the Practice (Day 1)
Morning 9:30 to 11:30am
Taking the Seat of the Teacher & Essential Elements of Asana Practice

Lecture and conversation about what it means to teach yoga, with a focus on the role of the teacher, ethics, and essential elements of asana, including how we breathe, move, stabilize, gaze, persist, detach, align, energize, modify, support, touch, listen, and love. Related topics might be fear, amusement, courage, compassion, wonder, and calmness.
Afternoon 1:30 pm to 5:30 pm
Standing Asanas

Some say just let it feel good. Some tell you exactly what to do and how to do it. Here we will explore student-teacher dialogue, the conversation between student experience and a teacher's informed guidance, in the context of looking closely at a wide variety of standing postures. We will peer through the prisms functional anatomy, biomechanics, and kinesiology; inquire about habits and samskaras; discuss conflicting theories regarding alignment, energetic actions, and stress; and consider alternatives ways of offering verbal cues, visual demonstration, and hands-on cues.
Friday, June 10: Guiding the Practice (Day 2)
Morning 9:30 to 11:30am
Hand & Arm Support Asanas

Here we will apply the same approach described for the Standing Asanas session to Hand and Arm Support postures, starting with a brief discussion of the hands, wrists, elbows, shoulders and neck. Postures will range from very basic to advanced.
Afternoon 1:30 pm to 5:30 pm
Backbends

Here we will apply the same approach described for the Standing Asanas session to Backbends, starting with a discussion of the spine and its relationship to the pelvic and shoulder girdles. Postures will range from very basic to advanced.

Saturday, June 11: Remixing and Refining Yoga in Practice
Morning 8:00 to 09:30am
Waking Up to Energetic Balance and Sustained Joy

First, we will simply sit and tune in. Second, we will go very slowly in gradually expanding, balancing, and refining how we breathe, exploring a variety of pranayama techniques, with just a little bit of movement. Third, will sit and play with a few ways of cultivating simpler yet more expansive consciousness and joyful awareness.
Afternoon 2:00 pm to 5:00 pm
Surya Namaskara Remix and Refinement

It might sound blasphemous or pretentious, but after 100 years we can improve the basic Sun Salutations created in the early 1920s by the Krishnamacharya and Sivananda gurus. With our 100 years of accumulated experience and the insights of human sciences, there a few simple remixes and several principles rooted in biomechanics and neuroscience that can make these precious gems of yoga better for all – safer, more accessible, more sustainable, and more beneficial. In exploring the new methods and techniques for practicing and guiding Surya Namaskara A/B and Classical Surya Namaskara, we will also consider how best to guide them as students and teachers.

Sunday, June 12: Integration, Conversation, Expansion
Morning: 8:00 am to 10:00 am
Asana, Pranayama, Meditation: An Integrated Yoga-Tantra Practice

This mixed-level class with soft guidance will encourage playful and joyful exploration. First, we will sit, breathe, visualize, and set clear personal intention. Second, we will explore a gradually deepening array of asanas (standing, core, arm support, backbends, twists, seated and supine forward bends and hip openers, and inversions) in a flow-style practice with many options for different conditions and intentions. Third, we will rest, then breathe to simplify everything, and then sit a little more. If there's interest, we'll sing.
Afternoon: 1:00 pm to 5:00 pm
Guru-Free Satsang: Gathering Together for Truth

The English term "conversation" is rooted in Latin, conversari, "to keep company with" and "to turn." It implies an exchange of ideas, some of which might be contrary, but there's a friendly mood, "to enjoy oneself," "to have a good time." At a time of great conflict among friends, family, villages, regions and nations, we all need more conversations. In the spirit of the Sanskrit satya, "truth," we will gather to converse about a variety of topics that matter in practicing and teaching yoga, such as the nature of fascia, the vagus nerve, the brain's default mode and salience networks, hybrid teaching, hands-on adjustments, yoga therapy, psychedelics, ethics in teaching, science, mysticism, mythology, and whatever interests you in relation to yoga.