mentoring
Asana Academy: Online Mentoring with Mark Stephens
Monthly training & Resources
for teaching asana with confidence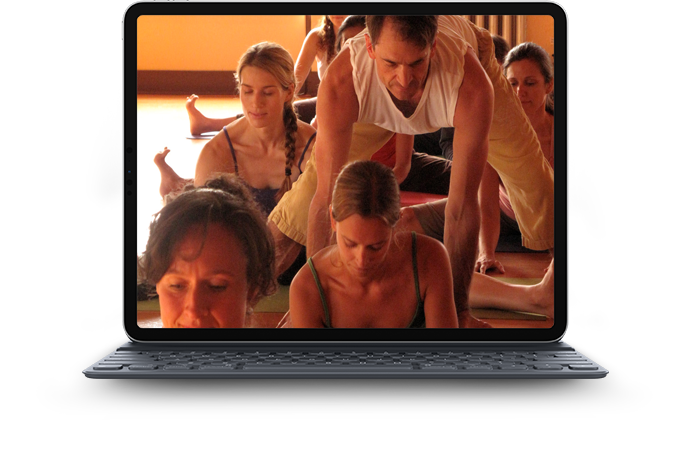 "There is no end to how much we can learn and evolve as teachers." – Mark Stephens
teach-with-confidence
Teach Asana
with Confidence
As yoga teachers, we want our students to have the most insightful and transformational experience practicing yoga. Sometimes this means saying and doing very little. Yet in many instances our guidance is just what a student needs most, whether it's for moral support, safe alignment or making a particular asana more accessible.
In this light, teachers guide best from a place of informed knowledge around the nuances of teaching asana and how to make asanas accessible and sustainable for the unique individuals showing up before them.
Yet many teachers lack confidence in their ability to guide asana safely, accessibly and sustainably. For some, this is simply because they are new teachers and gaining experience, and for others this shortcoming stems from the quality of their initial teacher training.
Furthermore, the deeper you go in your training and experience as a yoga teacher, the more you realize that there's an infinite universe of knowledge and wisdom to bring to the practice. This becomes more abundantly clear as we come to better appreciate and understand our unique students.
That's why I'm here for you as a mentor. Inside the Asana Academy, I provide teachers with an in-depth learning experience to help you build on your prior experience and teach asana with clarity and confidence. Whether you are a new or an experienced teacher, this Academy will help you develop the knowledge and skills you need to:
Provide informed alignment instruction.
Make asanas accessible with modifications and variations.
Design and teach asana sequences that are creative, safe and sustainable.
Give guidance that addresses individual needs in a way that makes also sense for an entire class.
Work with special conditions and injuries.
Clearly understand the anatomy and physiology that are the basis for alignment, energetic actions, and clear cueing in teaching asanas.
Teach inspiring and transformational classes that keep students coming back for more.
7-Day
Free Trial
Try out the Asana Academy for free
Monthly
Subscription
$24 (billed monthly)
Annual
Subscription
$199 ($89 savings) (billed annually)
EXPERIENCE YOU CAN TRUST.
Mark Stephens has been training yoga teachers for over 20 years and is here to help you bridge the learning gaps between teacher training, weekend workshops and the daily practice of teaching.
As an internationally acclaimed yoga teacher and author of multiple books on teaching yoga, Mark brings decades of experience and a background in academia to his trainings that far exceed Yoga Alliance standards. His four bestselling and comprehensive yoga textbooks – Teaching Yoga, Yoga Sequencing, Yoga Adjustments, and Yoga Therapy – are in multiple languages and used as core textbooks in teacher training programs around the world.
With a deep study of yoga history and philosophy, human anatomy and physiology, social and interpersonal dynamics, and Eastern and Western theories of being and consciousness, Mark brings a non-dogmatic, accessible, and integrated perspective to his trainings that makes yoga a more refined resource for healthy living.
The Asana Academy brings Mark's training to you with easy-to-digest monthly content that helps you bridge the learning gaps between teacher training and weekend workshops.
include
Here's what's included in the Asana Academy.
Convenient learning: Affordable training and mentoring without the need for travel or a lengthy time commitment. Train with me at your own pace, according to your own schedule and from the convenience of your own home.
World-class training: Described by Yoga Journal as a "teacher's teacher," my highly-acclaimed teacher training program is distinguished by its track record of producing outstanding graduates for over 20 years, many of whom are among the leading yoga teachers worldwide.
Time-saving resources: Along with monthly training videos, live Q&A mentor sessions and ready-to-use sequences, you'll have access to a growing library of digital resources for yoga teachers.
YA CE: Earn Yoga Alliance continuing education units with up to 20 Non-Contact Hours. Under the temporary provision of online learning, you can also earn up to 10 Contact Hours.
Special Discount: beYogi Liability Insurance.
Each month you'll receive:
An in-depth training video to help you refine the asanas, including: sequencing tips, biomechanics, hands-on adjustments, contraindications, common misconceptions and much more.

A live group Q&A mentor session with me (+ session replays) to address all your burning questions as you learn the information and apply the techniques shared in the training videos.

A ready-to-use class sequence incorporating the asanas and techniques discussed in the monthly training video, so you can practice what you're learning and save time constructing your classes.

A growing library of time-saving resources for self-study and planning classes, including: templates, worksheets and teaching scripts.
learn
In-depth guidance for teaching yoga
– A practical understanding of the major asanas, including alignment principles, energetic actions, variations, modifications, use of props, contraindications, benefits and risks, injuries and special conditions and common misconceptions.
– Functional anatomy, biomechanics and the kinesiology of movement as it applies to seeing students in the practice and guiding them in a meaningful, safe and effective way.
– Application and detailed guidance on verbal cues, hands-on adjustments and techniques for providing assistance.
– Intelligent sequencing that explores the nuanced interrelationships among asanas within and between the seven asana families.
– Tips for teaching yoga beyond the asanas, including subtle energy, mantra, pranayama, meditation and incorporating yogic philosophy.
confidence
WHAT'S POSSIBLE
FOR YOU AND YOUR STUDENTS
Confidence makes all the difference!
At some point, we all feel insecure about teaching- worried if students liked your class, comparing yourself to other teachers or feeling like you just don't know enough yet.
I get it, because I've been there too.
From my experience, such fears get in the way of our teachings by causing stress and anxiety. Self-doubt means you aren't showing up fully and students are not receiving the best of what you have to offer.
What I've discovered through decades of teaching yoga and training teachers, is that confidence makes all the difference for ourselves and for students. Confidence means less stress and worry. It means showing up fully, making a real difference and cultivating a deeper passion for teaching yoga.
The Asana Academy helps teachers gain confidence by equipping them with the in-depth knowledge about asana required to teach classes that:
Work for everyone in class
Address individual needs
Make people feel good
Inspire and transform
Keep students coming back for more
learn YA
YOGA ALLIANCE
CONTINUING EDUCATION FOR
THE PRICE OF A DROP-IN CLASS
For $24 a month (the cost of a drop-in class) or $199 a year (roughly the cost of a 1-day workshop), the training you receive inside the Asana Academy will count towards your continuing education requirements with Yoga Alliance. You can earn up to 20 Non-Contact Hours and up to 10 Contact Hours under the temporary provision for virtual learning.
learn Customize
CUSTOMIZE
YOUR ACADEMY EXPERIENCE
While the Asana Adacemy brings you a consistent opportunity for ongoing learning each month, it's designed in a way that allows you to customize your experience and time spent training inside the Academy:
- train at your own pace
- choose how much time you spend training in the Academy
- speed up or slow down the training videos
- optional worksheets
- watch Q&A session replays when you can't attend live
I understand you have a busy life and making time for on-going learning can be challenging, but rest assured, I built the Asana Academy with this in mind. With the Academy hosted on a digital platform, you can train with me from anywhere in the world and from the convenience of you own home. You can move through the training content at your own pace and decide how much time you want to spend in the Academy each month. You can even speed up the training videos to move more quickly or slow the speed down so you can move more slowly (or if English is not your first language).
STRUCTURE
On the first of every month, a new 1-hour training video is released along with a ready-to-go class sequence. The group Q&A session follows on the third week of the month, giving you plenty of time to watch the video, practice the sequence, fill out any worksheets you like and jot down your questions or concerns. Each month is structured this way so you know what to expect, but you can still move at your own pace.
TIME
Some members simply watch the new training video and spend as little as one hour a month inside the Academy. Other members choose to spend 3-5 hours inside the Academy watching the new training video, attending the Q&A, filling out worksheets, practicing the ready-to-go sequence and revisiting past training videos.
Can't attend the group Q&A session? No problem, I will provide a replay of the session that you can watch at your convenience. The video replays also feature time-stamps for each question, so you can can view the questions, go directly to a specific question and skip around as you please.
How you move through the Academy and digest the training content is really up to you and your personal needs.
youngold
WHO IS THIS MENTORING FOR?
Passionate yoga teachers who recognize the learning never ends.
This online mentoring and training is for any yoga teacher who honors the value of being a student. The deeper we get into the practice, the more we realize the infinite wisdom and knowledge that is still yet to come. New and seasoned teachers alike will find value and inspiration for teaching sustainable and transformational yoga.
If you lack confidence in your skills…
If you feel your teacher training was insufficient…
If you love learning and studying the practice of yoga…
If you want to be the best yoga teacher you can be…
The Asana Academy is for you!
"Mark Stephens Yoga Teacher Training was a transformational and integrated experience. Mark brought YTT students a rich historical understanding of yoga, reflective examination of yoga philosophies, constructive practice guiding different bodies in asana, pranayama, and meditation practices, and a bountiful repertoire of hands-on adjustments for postures deeply informed by modern science and kinesiology. Most importantly, Mark empowered us to make informed decisions on the types of teachers we want to be as guided by our inner teachers and continued learning."
"Mark Stephens Advanced Yoga Teacher Training is the best yoga training I have experienced. The supplemental reading was very helpful and I appreciate that he included instructional elements for different learning modalities. I would highly recommend this training!"
start mentorship
Start Your Mentorship Today
The best yoga teacher one will ever have is alive and well inside you. Much of the practice is about learning to hear and honor that inner teacher on one's unique path.
But, it's helpful to have an experienced and informed outer teacher to offer guidance along the way.
Join today to receive monthly inspiration, education and resources to help you refine your skills, build confidence and step forth as the best teacher you can be.
Cancel your subscription at any time during your plan term.